Back from IBC 2019
Thank you for visiting us!
In: Exhibitions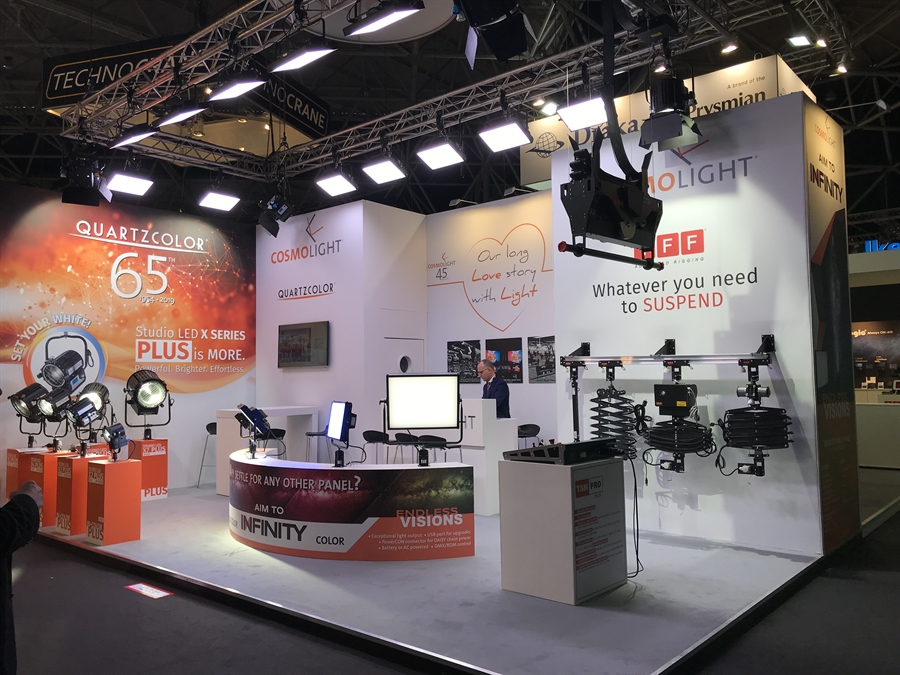 We would like to spend few words to thank all our friends and peolpe who visited our booth for spending time with us.
It was a great pleasure meeting all of you, catching up with old friends and partners and making new ones.This IBC 2019 edition was different from the others because we had the opportunity to celebrate and share with all of you our 45th anniversary of Cosmolight and 65th anniversary of Quartzcolor.
This year our visitors had the chance to experience our LED Panel product range: INFINITY BICOLOR and INFINITY COLOR!
RDM control, ability to set up the frequency, USB port Mini for software and new features upgrades, USB ports type A for DMX Wi-Fi and powerCON connector for DAISY chain power are some of the brilliant characteristics that differentiate this professional product. INFINITY has an easy and intuitive interface, a STANBY operation button, a LCD graphic display and three encoders to guarantee an immediate access to dimming, color temperature and color mode set up: with its sophisticate features, this LED panel assures a tremendous light output. The absence of the fan guarantees silent operations and easy maintenance. This innovative LED panel can be configurated with a Manual or Pole Operated stirrup and it has a twin power configuration as well: it can be powered via AC or by an universal detachable V-mount battery. Additionally, because of its thin and lightweight design, it is possible to install and remove its accessories with just one hand.
INFINITY BICOLOR has the ability to regulate the Correlated Color Temperature from a minimum of 2800 K to a maximum of 6500 K, which means you can shift in a matter of second from a Daylight to a Tungsten fixture just turning the potentiometer: the user can shift very smoothly the lighting fixture thanks to the 8/16-bit electronic driver that ensures an accurate and precise dimming (0 – 100%).
For this event, we showed you the first prototype of INFINITY 400 with 360W:has all the INFINITY BICOLOR functions but it is bigger and brighter than ever!
INFINITY COLOR has a Correlated Color Temperature between 2800 K and 10000 K. Additionally, this LED panel could be set in four different color modes: HSI mode, GEL mode, RGBW mode and XY Coordinates mode:
HSI mode allows the user to adjust and set the hue, saturation and intensity of the wanted color;
Gel mode permits to choose from an extensive library/menu of gels
RGBW mode allows indipendent adjustments for the intensity of red, green, blue and white;
XY COORDINATES mode determines the color displayed by its XY coordinates in the CIE 1931 diagram. Set the x and y coordinate with 8-bit or 16-bit resolutions.
Our visitors could also discover the Quartzcolor Studio LED X Series PLUS, LED Fresnel range from 40W to 500W, and the Studio LED X Series PLUS BICOLOR with tunable color temperature from 2700 K to 6500 K. This year, the new addition to the Fresnel family is the Studio LED X2 PLUS BICOLOR with 60W more compact and versatile than ever. It can be bi-color or mono-color, powered by battery and it can be used to light up small TV studios, architectural structures, locations and photo shoots.
See you next year!
---